Turn Leftovers From This . . .
Into . . .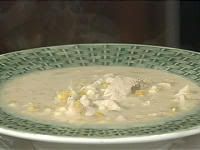 This!
Sue's Turkey Corn Chowda
¼ cup butter or margarine
2 12-oz. cans vacuum-packed whole-kernel corn
4 medium onions, sliced
¼ teaspoon dried thyme
5 medium potatoes, pared & sliced
1 cup light cream
2 stalks celery, sliced
1 1-pound can cream-style corn
4 teaspoons salt
1 ½ teaspoons paprika
½ teaspoon pepper
3 cups cut-up roast turkey or chicken
2 cups water
2 tablespoons butter or margerine
1 chicken bouillon cube
Parsley
5 cups milk
In ¼ cup butter or margarine, in large kettle, sauté onions till golden; stirring often.
Add potatoes, celery, salt, pepper, water and bouillon cube.
Cook, covered, 15 minutes or until vegetables are tender.
Add milk and balance of ingredients except 2 tablespoons of butter and parsley.
Heat; dot with butter, snip parsley over top.
Makes 8 to 10 servings.
Enjoy! Write us and let us know how you liked the recipe!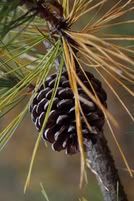 All material contained herewith
has been copyrighted by
Pinecone Productions